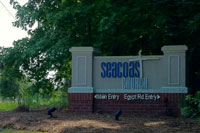 It has been a little over four years that my family and I have lived in Texas. We moved here from Charlotte to work with a great team at Sugar Creek Baptist Church. It has been a great experience, but God is calling us on to a new opportunity. At the end of June we will be packing up the house and heading to Mount Pleasant, SC (a suburb of Charleston) where I will be joining Seacoast Church as the AV Systems Director.
I'm excited to see what God has in store for me at Seacoast. I've only spent a short amount of time with the staff, but I can already tell that it is going to be a great team to work with. Lots of new challenges lie ahead, but I'm looking forward to applying my technical and creative gifts.
We are really going to miss our family at Sugar Creek. What a great team of volunteers and staff to work with. God put it on my heart to work in technical ministry full time and SCBC gave me that opportunity. We have been so blessed to have had this season of life and pray that they continue to have a big impact on Sugar Land and the world.
When God leads, you go; to the ends of the Earth if that is his will is for your life. As it says in Joshua 24:15 "…But as for me and my house, we will serve the Lord."